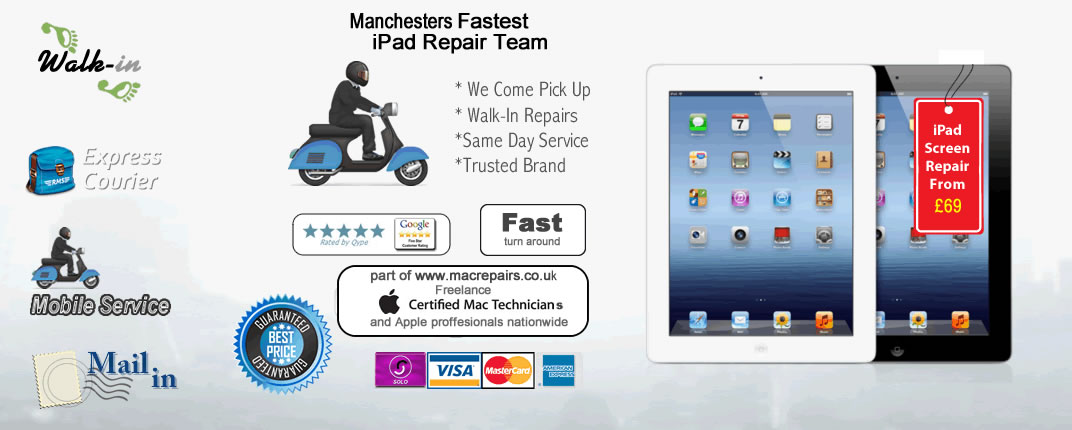 iPad Repair Manchester
Express iPad Repair Manchester is the cities first dedicated iPad repair workshop. With over 10 years experience in the repair and support of Apple products, we are sure you will be happy with our professional, reliable iPad repair and support solutions. We are based in Manchester and provide a pick up from the Manchester University, and within the  city centre. We take pride in all the iPad repairs we carry out as we not only understand how much you rely on your iPad for your day to day running, but also how much you love it! Thats why all our work is guaranteed for 90 days. We are also the only company locally that provides on site iPad glass screen repairs throughout Manchester.
If its a fast professional turn around you are after for your Apple iPad repair then our Walk-in repair service offers the most competitive price around, Here at Express iPad repair we are always adjusting our prices so we are always able to offer you the very best service. It is important to bear in mind that your Apple iPad is an expensive item built with quality parts. As the iPad becomes more popular, so do the demand for parts. At present there are some really bad iPad screens in the market place, many are not even made of glass, but plastic. Many people understand that for a quality repair you need to pay a realistic price. We are not the cheapest in the market, we are also not the most expensive, but our service is professional and backed up by 90 days warrant on parts and labour, contact us today for iPad repair in Manchester.
If you live too far away or are unable to get along to our Workshop, then we offer a mail-in service. Should you wish to go ahead with the service please call us in advance. We aim to return your iPad to you within 72 hours. All returns are sent by Royal Mail special Delivery for your peace of mind. Express iPad Repair Manchester always take for up most care of your beloved iPad, and all mail backs are insured and packed securely.
The last option we offer is a local pick up service, or a on site repair. If you require one of these options then please also get in touch on the above telephone number. Our team is on hand daily for to assist. It is also important to point out that there is a charge for these services.
At Express iPad Repair Manchester are goal to offer the very best service to our clients locally and nationally. If you have any questions please feel free to contact us on 0161 2744404 or use or contact form. Someone will get right back to you.
Express iPad Repair, 96-98 Grosvenor Street, Suite 1, Grosvenor House, Manchester, M1 7HL.